Former Nurse, Bernice K.
Bernice K. is one of the lovely residents living at Renaissance Village Rancho Belago. She is a former nurse and talks about what it was like growing up in Pennsylvania before she decided to move to California.
Growing Up In Altoona
Bernice K. was born in Altoona, Pennsylvania, on February 7, 1927, in the home she lived in all her young life, just like her older sister and younger sister. Her father worked at the Freihofer Baking Company, and she used to love going to visit and smelling all the goodies they baked. She remembers her father bringing home doughnuts and other treats. Sometimes this included ice cream as the plant next store made and sold it. Bernice shared she spent a lot of time at the dentist.
Their house had a large basement, and the girls would rollerskate there when it was rainy or cold outside. On the side of the house, there was a grapevine that covered their whole side porch. They grew corn, green beans, radishes, onions, peonies, and rhubarb in the garden. All the time she spent in the garden gave her an appreciation for nature that she holds today. Each morning she wakes up and enjoys her view of the blue sky and all the white, fluffy clouds.
---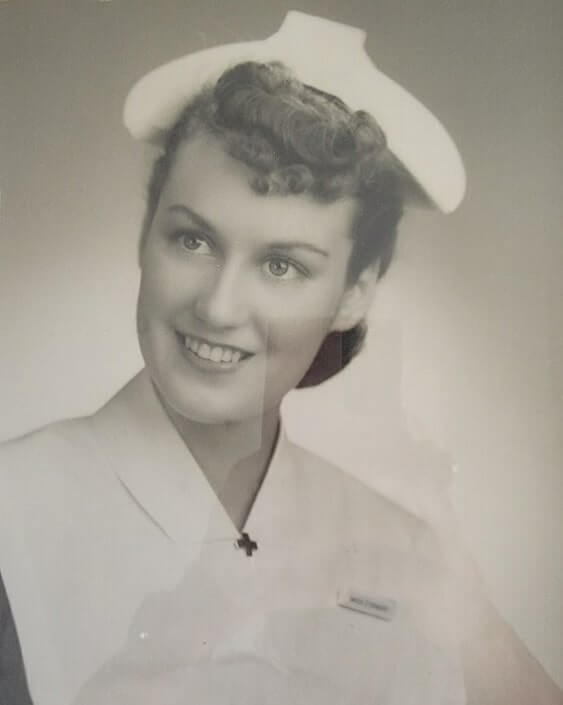 Challenges in the Early Years
Bernice started school at five and faced a challenge in grade school. She had problems focusing, which she accredits to her immaturity and problems at home between her parents. Her mother tried to assist Bernice with her math, but it caused more problems. When she was in 7th grade, the school decided to hold her back a year, and she found that it helped her as she went on. Bernice remembers always having enough to eat and clothing, but there was no money for education. Nobody ever talked to her family about the importance of education. She shares they were more focused on getting them to church. They would go every Sunday, sometimes on Wednesdays, or another day for Bible study. However, since then, she gave up on a lot of those educational views.
Taking Care of Others
 For as long as Bernice can remember, she always wanted to be a nurse. She would take care of little kids that fell and would put band-aids on them. While in high school, World War II was getting ready to end, and Sylvania Electric Products offered students jobs to make radio tubes for the Navy. Bernice worked there after school and on weekends to make money for nursing school.
The Chance of A Lifetime
One morning, Bernice was reading the paper, and she came across an advertisement stating that the government was offering nursing school free of charge. There was a shortage of nurses as many went off to serve in World War II. Bernice had already taken the George Stein preparatory course for nursing, so she signed up for the county general hospital in Philadelphia, Pennsylvania. The nursing program accepted Bernice, and her parents drove her to Philadelphia to start this new life. When Bernice got there, she met another girl named Mary, and they became fast friends. The nursing program took great care of them and provided shelter, food, uniforms, and even a monthly stipend.
Bernice did well in the program and worked at the hospital for six months before Mary asked her to consider moving to California with her and their friend, Helen. None of the girls knew how to drive, so Bernice went down to the Department of Motor Vehicles and got herself a book. She learned how to drive by studying that book and passed her driving test. Two weeks later, the girls took off on the Pennsylvania Turnpike at 70 miles per hour. It took them three weeks to get to California. They made various stops to visit friends, horseback rides, and a myriad of other things. When they got to California, they stayed with Mary's sister while finding a place to live.
The Difficulties of Marriage
Not long after they moved into their apartment, Bernice shares that her roommates did not care for the friendliness she showed their dates. To combat this, they opted to marry her off, and she went along with it. Bernice ended up married to a Marine named Ed. Their marriage was not the greatest. But after some time, she went with her sister-in-law to look at Cinderella homes in Granada Hills, California, offered to veterans. After meeting some of the neighbors, she signed up for a home, and they moved the family there.
Ed and Bernice had two children together, a girl, Linda, and a boy, Richard. After 18 years of marriage, Bernice decided to divorce Ed. She raised the kids by herself, which was difficult. Over the years, Bernice worked for several different hospitals: Children's Hospital in Los Angeles, Hollywood Presbyterian, and West Valley Hospital. She liked working maternity and did so until she retired after 69 years of service as a nurse.
Enjoying Life & Friendship
Early on, Bernice decided to buy a timeshare, which allowed her to get away and travel with her neighbors and friends. She went on several cruises to Alaska, Mexico, and the Caribbean. She spent time on the Holland America, Stardancer, and Azure Seas. Bernice also enjoyed going up to Avila Bay with her nurse friends and remembered trips full of giggles. She also took her son, Richard, and his wife to Hawaii with her timeshare. Bernice met a man named Don, who managed apartments in Panorama City. They partied together, and she enjoyed the time they spent together. He threw her retirement and birthday parties in his recreation room. They did not live together because it was not something she wanted to do.
Grandchildren and Health Challenges
Today, Bernice has two grandchildren and two great-grandchildren, Eric and Erin, but she does not often see them because they live out of town. However, she is close with her son, Richard, who lives in the area and cares for her needs. Richard was originally a teacher, but when Bernice fell ill, he quit his job to help care for her. In 2017 Bernice started to feel unwell, and in 2018 she ended up in the hospital. She received surgery against her wishes and now has an ileostomy, which she must attend to for the rest of her life. Due to this condition, she spent time in a few other assisted living communities where she faced challenges with her health and issues with the care she received.
Reading & Renaissance Villages
Bernice is an avid reader, and she shares that since coming to Renaissance Village Rancho Belago, she's read so many books. Her favorite book that she's read so far is "How To Be Happy For No Reason." Bernice enjoys eating lunch with Kathy and Ann, and she also enjoys talking with Carol. In addition to reading, Bernice enjoys writing. In reflecting on her life, Bernice realizes she's been through a lot of hell, but she finds herself pretty happy now because she decided it is what she needs to be.
Bernice is thankful to everyone who has helped her get this far in life. She appreciates the help of the med techs, caregivers, and employees like Jessica and Pam. Bernice also enjoys Anita's cheerful personality. Lastly, she is grateful for her son, Richard, who goes beyond the call of duty to make sure everything is well with her. She loves and appreciates his presence in her life.
---