Stay Connected With Video Chat
With an order of social distancing, face masks, and keeping the elderly safe from the Coronavirus, staying far from the ones you love can be discouraging, especially if you have an elderly loved one in an assisted living community or live far from you. However, thankfully, we live in a more technological age that allows us to be in contact with others instantaneously. Below we will layout a couple of great options for not only talking to your loved one during this time away but also getting to see their face thanks to video chat technology. 
FaceTime
FaceTime is an app that is available to Apple users on all of its various devices. This app allows you to video chat with other individuals with either an iPhone, iPad or Mac computer. FaceTime allows you to video chat with up to 32 users at once. There's no limit to how long you can talk with your friends or family, and this program works best while connected to Wi-Fi. In addition to video chatting, you can apply various filters and stickers to your screen if you desire.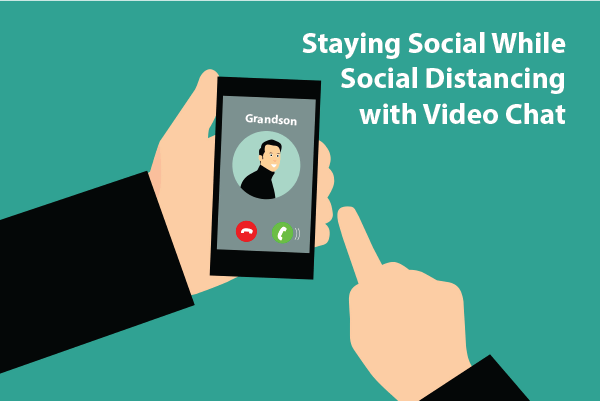 Then to video chat with others, you need to have their phone number or Apple ID in their contact information. To video chat with one person, go to their contact information and select the FaceTime button, which is to the right of the call button. To FaceTime multiple people, you can set up a group text. Once you set up the group text, click on the circles at the top of your group text, and a drop-down menu will appear. The center button of the drop-down menu will be FaceTime, select it, and all those who are available can join the call. Missed a call? No worries. If the group FaceTime is still occurring, you can check the body of your group text for the FaceTime text of whoever sent the request, and if it's still going on, you can click "join" to join the call. 
Skype
Skype is another video chat option for your phone or computer. This video chat app allows you to chat with up to 50 users at one time for free. To use this video chat option, you'll need to download the program to your computer or phone and set up a free account with Skype. Once you have an account, you can log in and begin searching for your friends. When you set up your account, you'll also set up a username. By adding other's usernames to your friend's list, you can video chat with them when they are online. 
Zoom
Zoom is a great video chat software that allows you to chat up with 100 people for 40 minutes for free on your phone or computer. You don't have to have an account to participate in Zoom chats. However, at least one person must have an account to set up a chat. Once a person sets up a chatroom, they have a ten-digit code and link to share with those they'd like to invite to the meeting. With the ten-digit code, you can join the meeting, or click on the link they provided, and it will take you into the session. The meeting lasts for 40 minutes before it kicks everyone out. However, the host can start another meeting directly after it shuts down. It is possible to avoid this time restriction by signing up for Zoom Pro, which gives you a 24-hour limit, among other features for $14.99 a month. 
Marco Polo
For those a little more tech-savvy, Marco Polo is a great free video messaging app. You can send short or long video messages to those who also have Marco Polo. Consequently, to send video messages to users, you must also have their phone number. Your friends and family can watch you record your messages live and respond in real-time with either emojis or small video responses while you're live recording. Additionally, you can also add filters, voice effects, text, or even doodles in your video messages. 
We're Here to Help
With whatever way you choose to keep in love with your loved ones, there's a lot of great options out there. We're happy to help residents in setting up video chat opportunities too. If you have any questions, please do not hesitate to reach out.
Learn More About Assisted Living
---