Congratulations Employees of the Year 2019!
Renaissance Villages lives by its mission of creating great days for its residents. We couldn't accomplish this mission without the amazing people who make up our team, and ultimately our Renaissance Villages Family. We appreciate the hard work each employee puts in every day and the care and love they show our residents. Each year we select one special individual at each location as our Employees of the Year. These employees are chosen for their outstanding performance, service, dedication and the hard work they put into upholding the Renaissance Lifestyle. With that we announce our Employees of the Year 2019!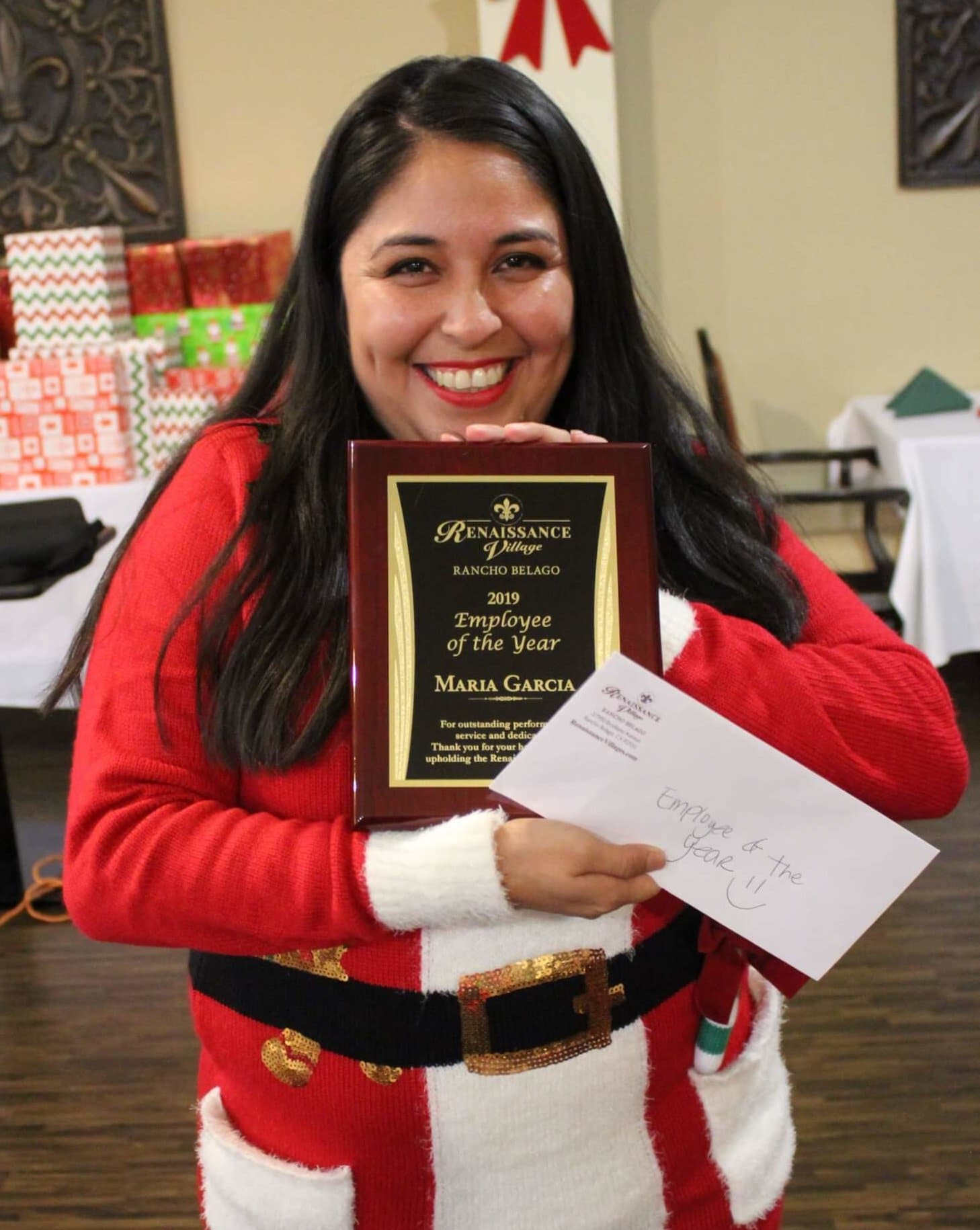 RVRB: Maria Garcia
Renaissance Village Rancho Belago's 2019 Employee of the Year is Maria Garcia, Move-In Coordinator.
Maria is honored to receive this award, and did not expect it. She's worked with the company for a few years, starting as a caregiver and moving through the ranks as a Med Tech, Wellness Director Assistant and now our Move-In Coordinator.
"Working with Renaissance Villages has given me a chance to learn more and care for residents in a different way, but always having interaction with them and making sure they are receiving nothing but the best care," Maria said. "I love my job. I love making a difference in our residents' lives. We have such as great team here, and we all work together to make that happen."
Michael Turner, Assistant Executive Director, enjoys working with Maria. "In the past year she has proved
herself invaluable to myself, the team and most importantly, our residents," Michael said. "She's exceeded my already high expectations. Our families love working with Maria. I never get tired of hearing families sing her praises. She works diligently while always putting the well-being and happiness of those who we are so blessed to serve first."
LaTonya Davis, Executive Director, is also pleased with Maria's dedication to residents and helping out fellow coworkers. "Maria is always willing to lend a helping hand when anyone needs help," LaTonya said. "Her love for her job and residents is evident in everything she does."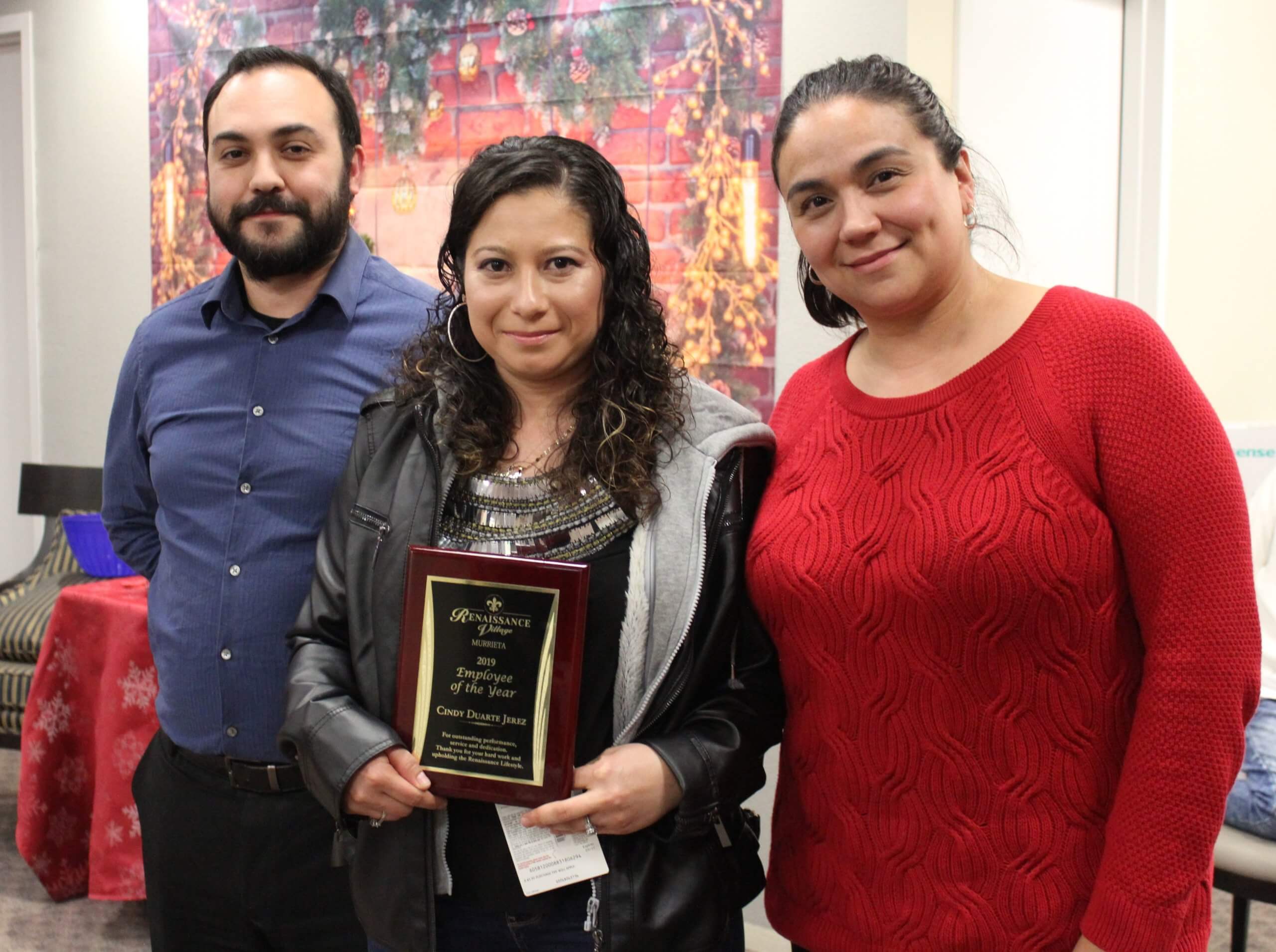 RVM: Cindy Duarte Jerez
Renaissance Village Murrieta's 2019 Employee of the Year is Cindy Duarte Jerez, cook.
"We highly value Cindy's dedication to her job and our residents," Brian Taube, Executive Director said. "She's a great asset to Renaissance Villages, and we truly appreciate the care and love she puts into the work she does each day."
Cindy was totally surprised by this honor and didn't expect it at all. Cindy is a valuable member of the
Renaissance Village Family. She's a hard worker, always on time, and completely reliable. Residents love her cooking and she always pushes herself to be better.
"Cindy is a team player and always offers a helping hand without being asked," Mariel Correa, Director of Dining Services said. "Cindy also loves cleaning, we've dubbed her lovingly, our "cleaning master." She works hard to ensure the kitchen is clean, and likes being a part of our weekly deep clean."
Fellow cook, Corrine, is proud of her "little sobrina Cindy." Corrine shares, "I'm so happy to see my hard-working kitchen friend honored with this award."
Congratulations Maria & Cindy!
Maria and Cindy, thank you for the wonderful example you are in upholding the Renaissance Lifestyle. You are valued members of the Renaissance Village Family and we truly appreciate everything you do to create great days for residents.
---