Employee of the Month: Gina, Caregiving
Gina llanes is one of the fantastic caregivers that make up the care team at Renaissance Village Murrieta. She loves helping residents and it shows in
the support and care she provides.
Gina was born in the Philippines. She was the middle child of three kids and has an older brother and a younger sister. They sometimes fought as brothers and sisters do, but they were always able to fix it. Her family owns a business that produces rice cakes during the holidays and she shares she always grew up around family.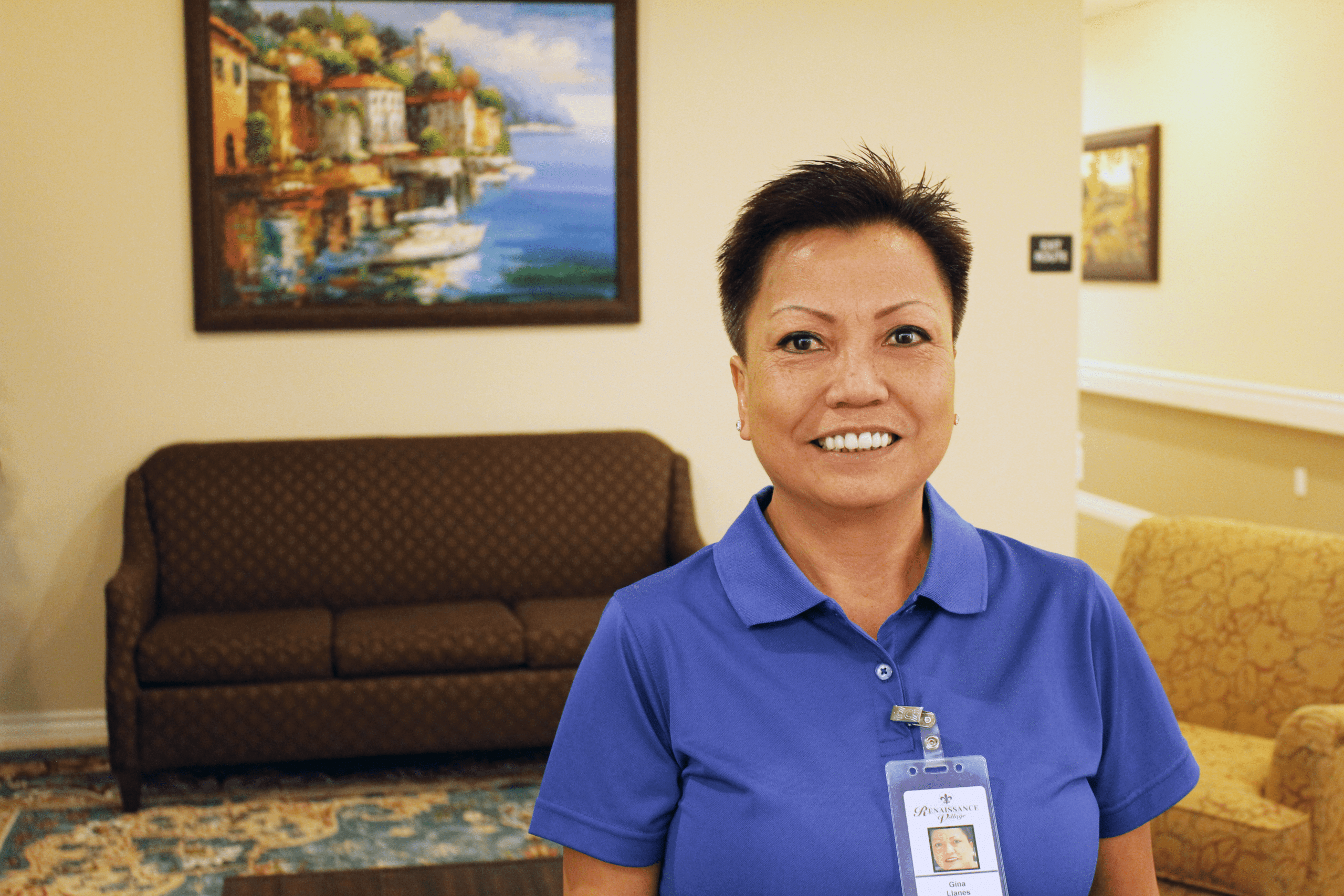 She attended the Philippines Women's University and got her degree from the college of nursing. In the Philippines, she is considered a Registered Nurse and Operating Room Nurse, but here in California, she worked as a Certified Nursing Assistant for over 20+ years before working at Renaissance Village.
Gina loves taking care of residents. She gets along with staff and residents and enjoys talking or sharing a joke with everyone. She shares that residents are easy to care for and she cares for each one as if she was caring for her own mother. She shares that everyone at Renaissance Village is nice, friendly and take great care of the residents.
Marriage & Leaving Philippines
Gina married her neighbor and childhood sweetheart, Glenn on April 14, 1987. In 1991, his family made the move to the United States, and his mother petitioned him to come. When he got here, he petitioned Gina and their daughter, Gielenn. Glenn was in the United States Navy for 23 years and retired as a Navy Chief. Today, he works as a Navy Hospital Corpsman. Gina is proud of her husband and the hard work that he does to take care of their family.
Raising children in the United States as opposed to the Philippines has been harder for Gina. In the Philippines, there was always help because they were always surrounded by family. However, here there are not very many relatives, so as the kids were growing up they spent a lot more time at home. The two also have a son named Kristofer, he's 25 and lives with them. Their daughter, Gielenn, is 28 and lives in Okinawa with her husband and son. Gina is a first-time grandma and she finds it so exciting. She has so much love for her grandson and was able to visit with him back in September before her daughter and son-in-law moved to Okinawa.
Gina has two Shih Tzus and a Chihuahua named Chewie, Kiki, and Khloe that she loves to care for. When she's not working she spends time taking care of her home, spending time with her family or dancing in Zumba three times a week. She enjoys going out to eat Thai or Vietnamese food with her husband and also enjoys cooking Filipino food for
herself and family.
Gina, we appreciate your sense of humor and the hard work you put into caring for our residents. Congratulations on Employee of the Month.