Joe P.: World War II & Korean War Veteran
Joe P. is one of the many veterans that call Renaissance Village Murrieta home. He has a plethora of insight as a World War II and Korean War Veteran.
Joe P. was born in El Paso, Texas, on March 5, 1926. Both of his parents are from Mexico, and his mother worked in El Paso. She had him in the United States, which enabled their family to move for a better life. His father moved their family to San Francisco, California, because he had brothers living there. Joe is the oldest of five siblings, which after Joe is Genito, Alfonso, Cecilia, Emily, and Bobby.
Answering the Draft
Joe was in high school during World War II. He later quit when he turned 18 because he was eligible for the draft. The Navy drafted Joe, and he took his oath of office at the federalist building in San Francisco before heading to San Diego for boot camp. He was glad to go into the Navy rather than the Marines because he saw With the Marines at Tarawa, a movie that depicts graphic war scenes. After the company graduated from training, they took them to Marine Corps Base Camp Pendleton. Joe recalls a Navy Officer stating he was tired of all the Marines getting slaughtered on the way to Japan. As a result,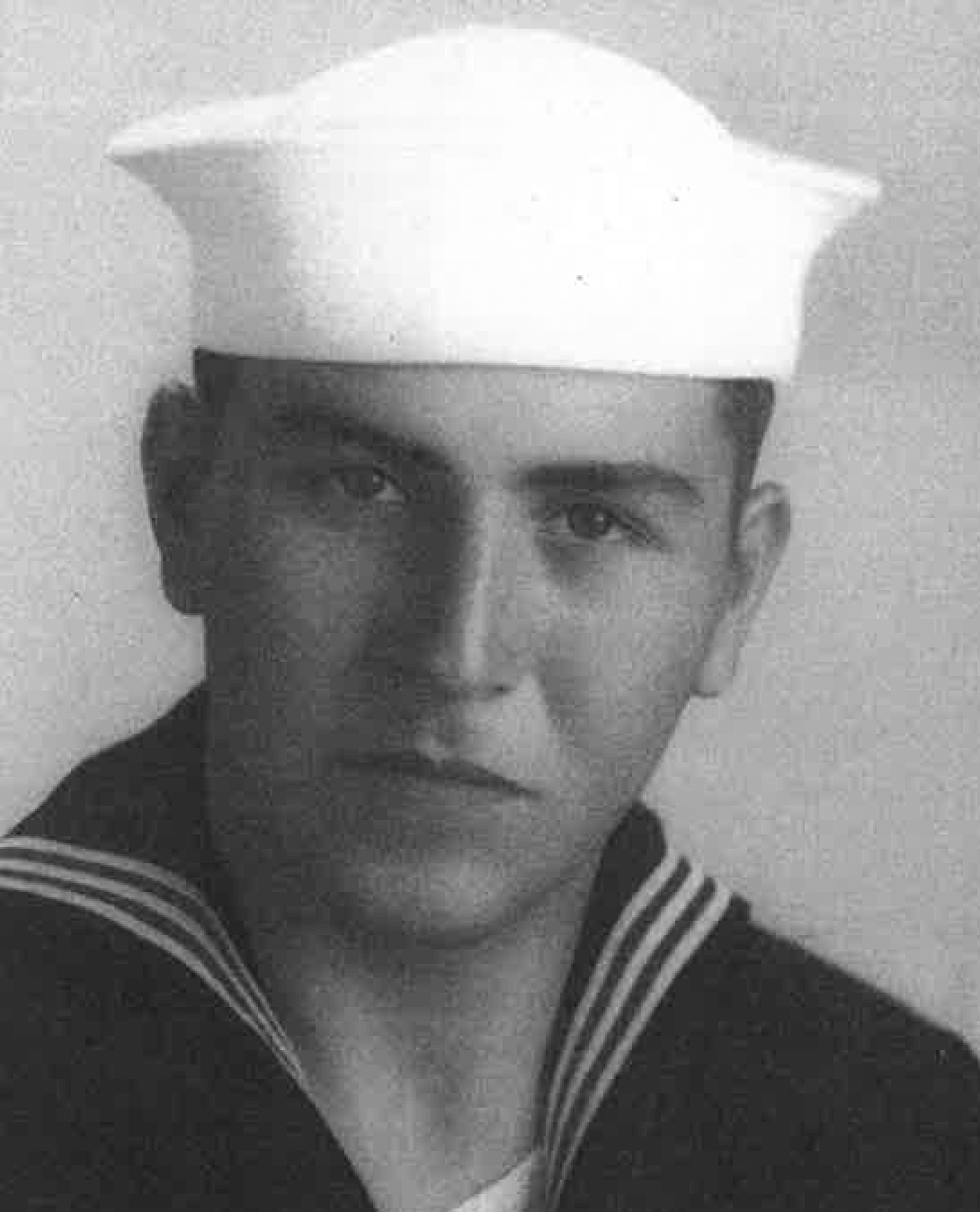 they became part of the Amphibious Corps division, including both Navy and Marines.
The USS Hinsdale, APA-120
They boarded the USS Hinsdale APA-120 near San Pedro, California. The company went to Pearl Harbor on Honolulu, the Japanese home islands, Kwajalein, Eniwetok, and Guam. As they got closer to the island, they could see Iwo Jima's highest mountain, Mount Suribachi. They dropped anchor and received instructions to put on their combat gear. Joe grabbed his rifle, bayonet, shovel, pack, rations, and everything he needed before heading to the fifth hold. He remembers hearing the battleships shooting Mount Suribachi. Before receiving their go-ahead to depart, they called a cease-fire, so the ships stopped firing for some time before proceeding.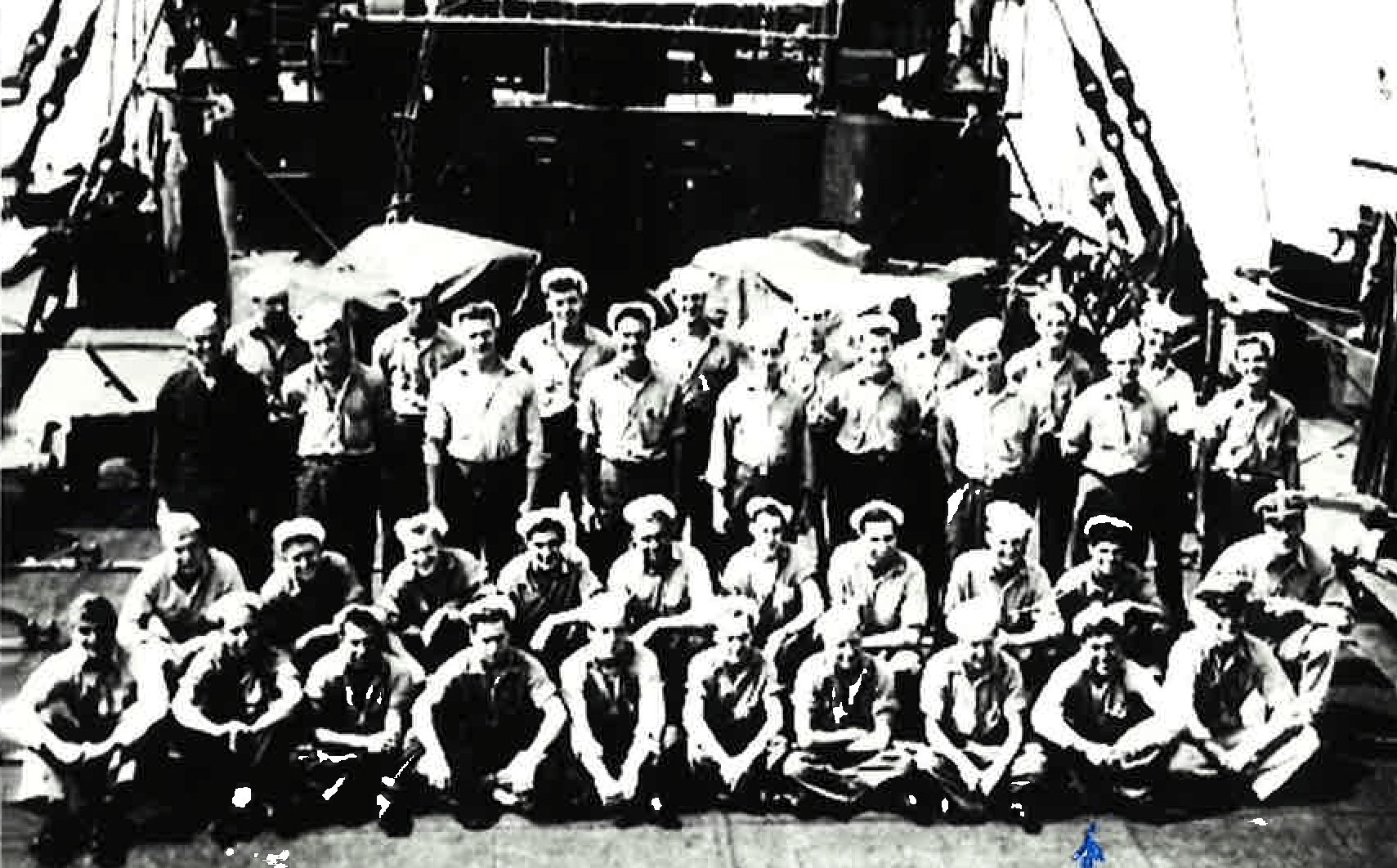 Invading Iwo Jima
Joe remembers the boat took off as mortars, and other weapons exploded around them. When they hit the shore, the boat went a little further before it
stopped. The ramp dropped, revealing the black sand of the beach. They began running up the sand and started building foxholes. He and two other sailors were digging when Joe heard his lieutenant needed him. The lieutenant tasked him with taking a message to a nearby captain. Two Marines drove
Joe over in a DUKW before bringing him back to continue his work.
He went back to his foxhole, and later another officer came and asked Joe to send a message using semaphore, a flag communication they learned in training. Mortars continued to fall as he headed back, and getting cover was imperative. He saw Marines goofing off, and when he tried to take shelter with them, he was told, "There's no room for you in here, sailor." Joe quickly made his way back to his foxhole. After it quieted down, they went back down and passed by that foxhole, but the mortars burnt everything to a crisp. A few days later, the men captured Mount Suribachi's top, and they raised the American flag in victory.
Leaving Iwo Jima
While they were on Iwo Jima, the USS Hinsdale left at night because of the enemy submarines. The USS Hinsdale also became a hospital ship to transport the wounded. Joe and his company received instruction to head back to the ship. However, they couldn't locate the ship, so they boarded another to get some after about 7-8 days of service on the island. Joe passed out on a bunk, but when he woke up, blood covered his uniform because of where he laid.
Attack on the USS Hinsdale
The USS Hinsdale unloaded the wounded men at Guam and stopped by Saipan before their plans to join in on Okinawa's invasion. However, a Japanese kamikaze plane struck the ship on its way to Okinawa. The plane hit the ship's port side just above the water line and ripped into the engine room. Three explosions went off, and everyone in the engine room was killed.
An officer told Joe he needed his helmet, and as soon as Joe stepped into his bunk, the plane hit.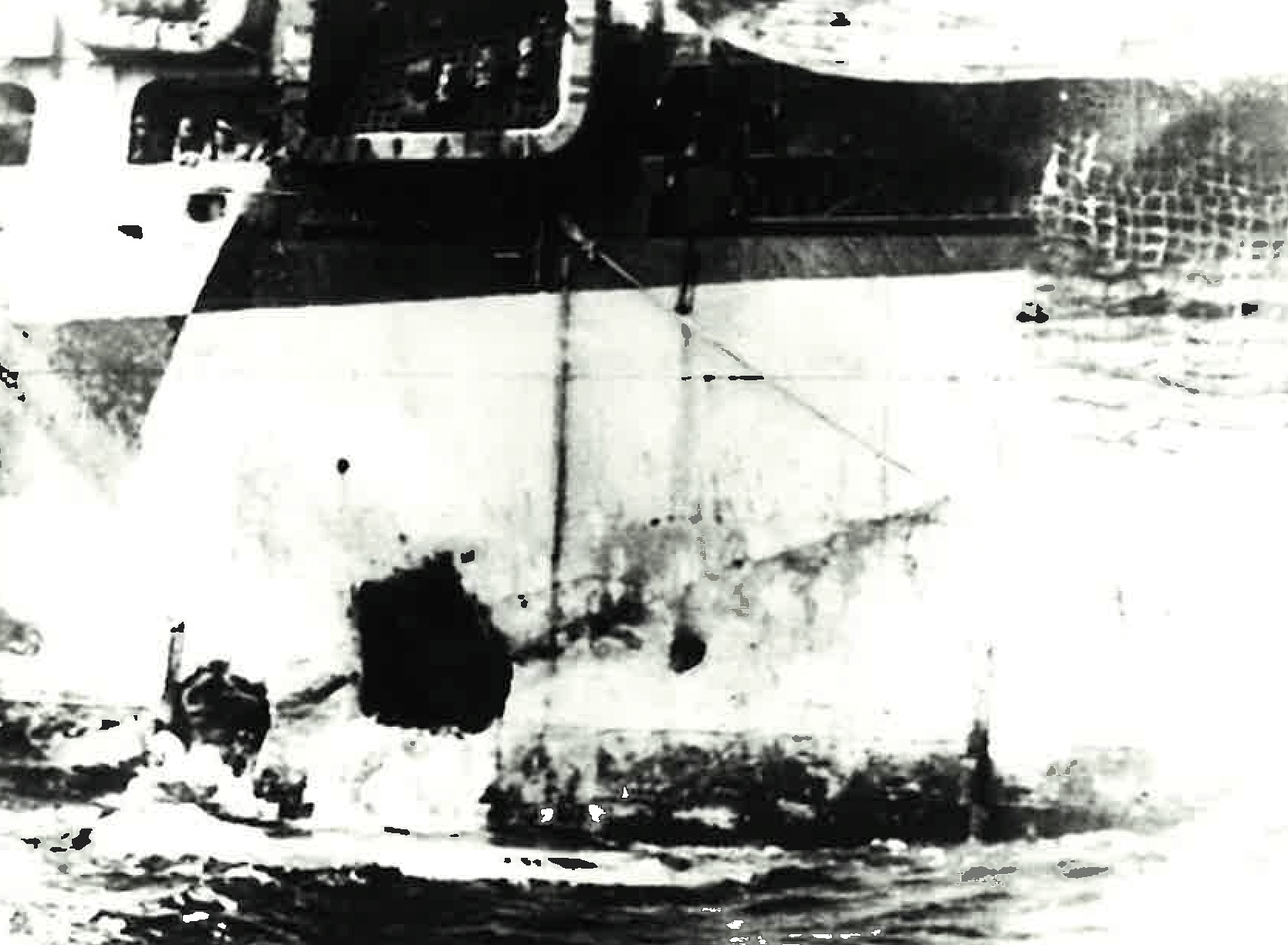 Power on the ship failed immediately, and they told everyone to move to the starboard side to help level the ship as it began listing. One of the lieutenants came over to Joe with a flashlight and a submachine gun and asked him to watch the starboard gangway. Later that day, a tug arrived and towed the ship to Kerama Retto for repairs. They later pulled the ship to Ulithi and spent time on Mogmog. The company received orders to go up the east coast through Panama as they broke for a thirty-day leave. On July 2, 1945, they pulled into Brooklyn Navy Yard 2 in New York.
Traveling Home
While they traveled home, the war ended. Joe received discharge at Camp Shoemaker on August 20, 1945. After discharging, Joe had the opportunity to go to college. However, his parents never stressed the need for a college education, so he went to work at a sugar refinery. A few years later, the Korean War brought Joe back into service. He joined the Merchant Marines, and since he had two years of sea time on a Navy ship and received an able body seamen endorsement, he served in Korea on the USS Mission Carmel. He remembers anchoring in Inchon, which had 30 ft tides. The Koreans could walk out along their ship because the tide was so far out. Their ship shuttled barrels of aviation gasoline, and luckily their ship was never hit by the bombs. Joe developed pleurisy during his service and went home.
Finding Love
He worked for Transocean Air Lines and Southeastern Airlines as an aircraft mechanic, which he worked there until he retired. Joee married his wife, Helen, a woman he met while working for the airlines. He encountered her at the Mexico City Café in San Francisco. As soon as he laid eyes on her, he couldn't take them off her. Eight months later, they got married. Helen had a daughter named Janie, and he and Helen later had their daughter, Lauree. Joe also has a few grandkids he gets to see when they visit Helen's niece, Marilyn, and her husband Kent, who live in The Colony. Later in life, Helen spent about 20 years in a nursing home, and Joe visited her every day.
Joe enjoyed making things out of silver, stainless steel, and copper. He also likes to go to the casinos to play Keno. He's also very involved with the veterans of Iwo Jima. Joe later went back to Iwo Jima and other places he served during World War II and Korean War. He's lived at Renaissance Village Murrieta for almost two years. Joe is glad that the staff is friendly and he enjoys talking to his fellow veteran residents about their time in the service.
Learn More About Assisted Living
---