Renaissance Villages' Veteran's Day Celebration
On Monday, November 11, Renaissance Villages Senior Living hosted its annual Veteran's Day Celebration. Veteran residents from both Renaissance Villages locations were acknowledged and honored for the sacrifice and service to this country.
The afternoon began with lunch and a patriotic musical performance by Chaplain Chad Dziedzickie and his wife, Bryckley. Chaplain Dziedzickie, from Living Waters Hospice, also delivered the event's benediction.
California Military Institute's Color Guard presented a full presentation of the colors. Simultaneously, Renaissance Villages' president, Al Rattan, led residents, families, and members of the community in the Pledge of Allegiance. Councilman Johnathan Ingram led the dedication of the American flag for the community's Veterans Wall of Honor. The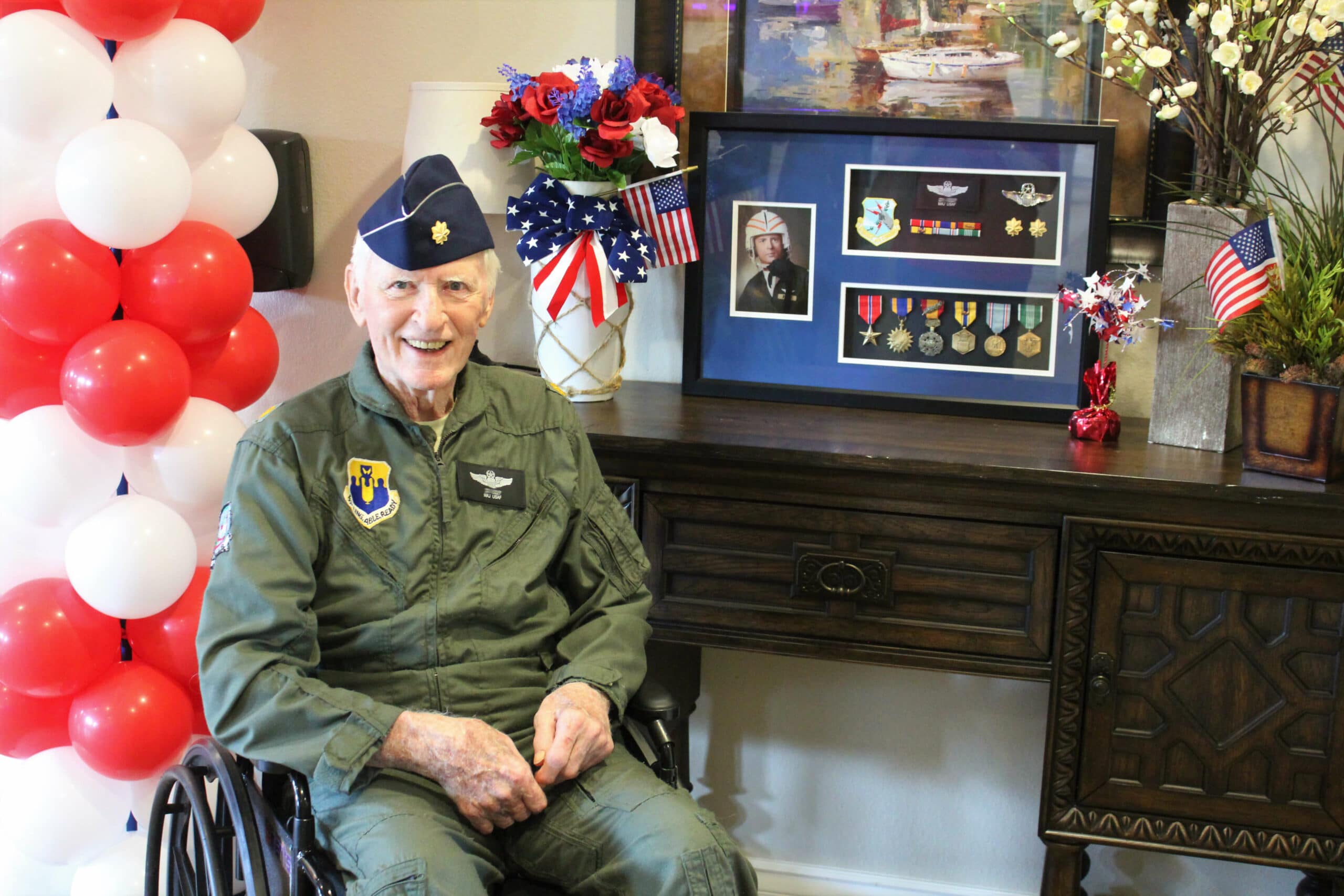 community's wellness director and U.S. Navy veteran, Mariann Uzo, donated the flag.
Honoring Veterans
Rattan delivered a presentation that honored and celebrated each of the veterans at the Renaissance Villages communities. Each veteran's branch, rank, service, and accomplishments were highlighted and acknowledged. All 37 of Renaissance Villages' veterans also received certificates, provided by Living Waters Hospice for their service. In addition, Murrieta's executive director, Brian Taube, or Rancho Belago's director of community relations, Michael Turner presented residents with their certificates.
Daniel Foley, Air Force Major
Veteran residents showed off the pride of their respective branches of service with shirts, hats, or in uniform. Daniel Foley, Renaissance Village Rancho Belago resident, former U.S. Air Force Major, and one of the most decorated veterans at the community came dressed in uniform. He also brought a shadow box, which showed his service medals and ribbons that he received throughout his 24 years of service. Foley is the recipient of a Bronze Star, Air Medal, Commendation Medal with Two Oak Leaf Clusters, Outstanding Unit, Combat Readiness Medal, & Vietnam Gallantry Cross Medal with Palm.
Sons & Daughters of the American Revolution
Rattan also discussed the vital topic of preservation of this history and the service of these brave men and women. William and Fay Bishop, members of the National Societies, Sons and Daughters of the American Revolution were both in attendance. Their respective organizations have an emphasis on promoting historic preservation, education, and patriotism. In addition, members also can "prove direct lineal descent from a patriot who either served aided in the American Revolution."
President Rattan is also a member of the Sons of the American Revolution (SAR) and emphasized the organizations' resourcefulness and aid in helping him and others trace their lineage. Both organizations are available to assist seniors and families interested in becoming members of the Sons or Daughters of the American Revolution.
Closing Remarks & T-34 Flyover
---
The presentation ended with a few words shared by the Mayor of Murrieta, Kelly Seyarto, about the city's love and support for veterans. He encouraged those in attendance to visit the Murrieta Veterans Memorial, which features several stone monuments that honor veterans. After the presentation, attendees were encouraged to go outside to watch a special flyover by San Diego Salute. Four Beechcraft T-34 A/B Mentors flew over the community and blew smoke in honor of the community's Veteran Celebration.
Finally, to learn more about Renaissance Villages Senior Living and how it creates great days for residents, please call 1-800-349-4013 or visit https://renaissancevillages.com