Meet Katherine G.
Rancho Belago's Resident Spotlight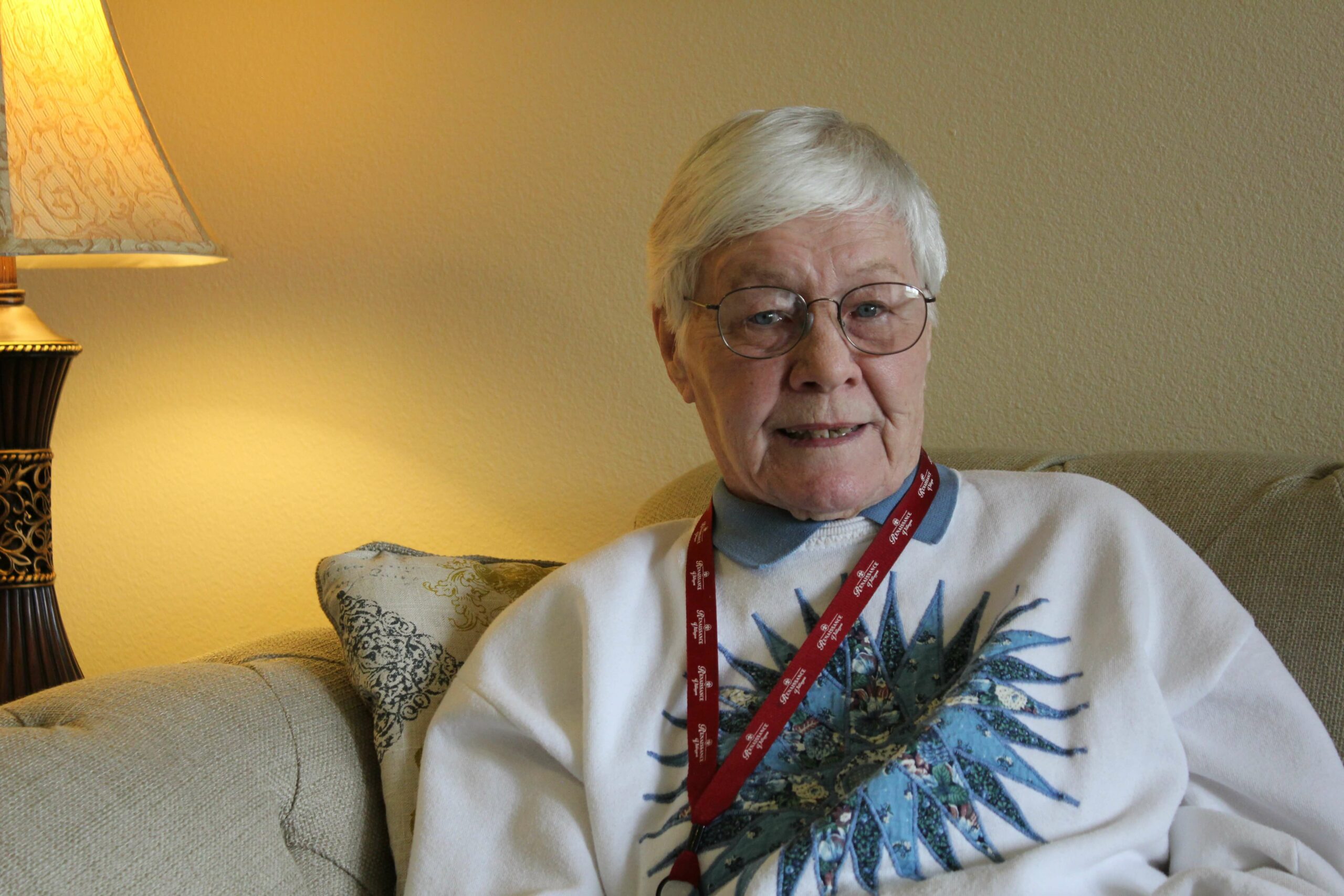 Katherine G. is Rancho Belago's newest resident spotlight.
Kathy was born in South Bend, Indiana on July 31, 1931. She grew up in a lovely home with two loving, Christian parents. Her father was a Boy Scout executive over several different districts, which caused their family to move around a lot. They moved to Texas when Kathy was eight years old. Her family lived in several little towns there before moving to Oklahoma.
In Oklahoma her father oversaw a council of his own and completed his career there. Kathy also attended and finished both high school and college in Oklahoma. In addition to moving a lot, they also did quite a bit of camping during the summer. Each trip brought great education experience for Kathy and her younger sister. By the time she was 12, she'd already been to 36 of the states in the United States.
Kathy and her sister got along, but like any sisters they got in spats and disagreements. Kathy even recalls drawing a line down the center of their room. As they grew up, they put away their childish ways and got along a lot better. Kathy and her sister did chores and received an allowance. Later on, in high school she also babysat for their neighbors.
A Love for Art
While attending the Oklahoma College for Women in Chickasha, Oklahoma, Kathy carried a newspaper delivery route. Which allowed her spending money to help pay for her expenses. She studied general education and art in college. She enjoyed drawing and painting, and loved learning any type of art she could under her professors.
Marriage, Work, & the Air Force
After graduating, she worked for a year in an attorney's office. The attorney also did taxes during tax season and she was able to learn how to do taxes during her time there. Kathy met her husband, Aaron, at a skating rink in Chickasha, Oklahoma. She shares there wasn't much to do there, and she enjoyed skating much more than going to see a movie. The two dated for about three years before getting married. Aaron served in the Army, but six months before they got married, he enlisted in the Air Force. He made a career out of it, serving for 20 years and retiring as a Senior Master Sergeant.
Aaron wasn't out flying during his time in the Air Force, he worked in food service as a cook. Kathy enjoyed the time he served in the Air Force as they got to move around a lot for his various assignments. They lived in Florida for a short time. While her husband served an unaccompanied year in Alaska, she lived with her parents. After that they moved to Wichita, Kansas before moving to Minot, North Dakota.
They also lived in Okinawa, Japan for three years. Kathy and her children loved the experience and enjoyed learning the culture. She liked interacting with the children. She taught in the local schools and helped with English pronunciation. When they returned to the United States, they moved to Sunnymead, California. Her husband's last stationing was at the March Air Force Base.
Construction & Art
Kathy and Aaron have three children, two girls and one boy. Betty is the oldest girl and lives up near Sacramento, California. Both her son, Ronald, and youngest daughter, Laurie, live in Moreno Valley, California. Kathy really enjoyed being a mom and loved that she was able to stay home with them as they grew up. She loved taking them camping and teaching them the things she learned growing up. Kathy didn't resume working outside the home until her youngest started school. She worked for a CPA firm in Downtown Riverside for 15 years, and then later went to work for Yeager Construction for another 15 years before retiring.
Kathy opened a shop in Crestline, California and she kept it open during the summer months. She sold her artwork, antique linens, and anything interesting she came across. However, when her husband, Aaron, passed away she sold the property because it became too much for her. She and Aaron were married for 51 wonderful years.
Grandchildren & Retirement
Kathy has six grandchildren and ten great-grandchildren. She sees the ones who live in Southern California most often because they get together every Friday evening for a family night. Kathy once enjoyed drawing and painting canvas, she later moved onto decorative painting, but now she'll paint on anything that doesn't move. She also enjoys doing needlework. Her love of painting also allowed her to host and run painting classes.
Kathy lived in the Moreno Valley area long before she became a resident of Renaissance Village Rancho Belago. She's very familiar with the area, and since she still drives she likes to travel outside the community. Kathy loves the mountains the most and enjoys the beautiful views they provide. When she's in the community she enjoys attending the exercise classes and goes to the Bible Study on Sundays. Kathy shares that food in the Dining Room is good and that weekly housekeeping is great. She also says that the concierge and staff at the front are always available and helpful. Kathy also shared that it's comforting for her to know that there are staff around if you do need something. Be sure to say hello to this wonderful resident spotlight if you see her around the community.
Katherine G.'s Resident Spotlight Interview:
Read More Blogs
---