Meet Le'Chelle – Assisted Living Med Tech
This month we're highlighting the fantastic work of Le'Chelle Tolbert, Assisted Living Med Tech at Renaissance Village Murrieta.
Le'Chelle was born in Los Angeles, CA and is one of seven children. She and her siblings didn't get along as kids, but grew closer as they got older. When she was in 6th grade her mother moved the family to Murrieta, but when Le'Chelle graduated high school she went back to L.A.
Le'Chelle always wanted to be a doctor. She went to Everest College for Medical Assistance and then to Kaplan College for Nursing. She worked at In N Out, but under advisement looked for a position related to what she was studying. Le'Chelle started as a caregiver and worked her way up to Med Tech. Ultimately she
wants to work with kids, either as an OBGYN or pediatrician.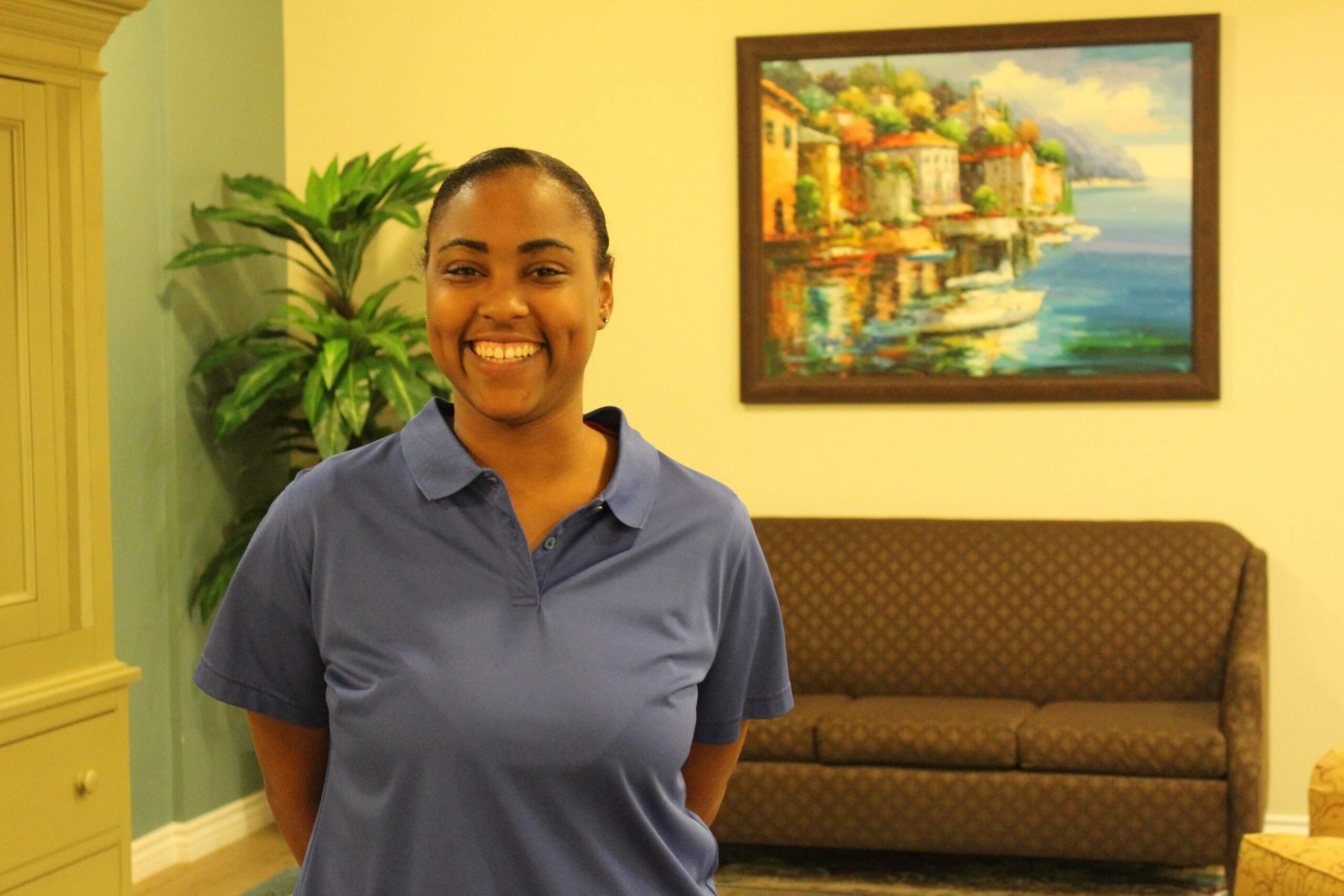 Helping Others
She enjoys working with the elderly because they genuinely need help, and their family members are not always there to help. Le'Chelle loves the friendships she's cultivated with residents. She also loves that on bad days they help turn it around. Le'Chelle enjoys joking around with them, and shares there's never a dull moment. She loves how the work environment is not like other places she's been employed. Everyone gets along and it's great
that there's no drama. She considers the team her friends and loves working with them.
A Joy-Filled Family
Le'Chelle has two young daughters. Her oldest, Samaria is 10 years old, and her youngest, Sa'Ryah is 22 months. Le'Chelle feels like she's been a mom forever. When she was 15 her mother had her little sister, and Le'Chelle pretty much raised her. She loves being a mom and seeing her kids grow. She's proud of her kids and enjoys experiencing all of their accomplishments. She also loves that both her daughters are filled with joy.
When she's not at work she enjoys spending time with her family and friends, and playing video games. Playing Minecraft also helps her relieve stress and she enjoys playing it with her friend and daughter. She also crotchets and can make blankets, mittens, booties and hats. She also used to sing and dance at church, but doesn't as much as she used to.
Le'Chelle, thank you for your dedication to getting the job done. We appreciate all that you do. Congratulations on Employee of the Month!